Our business model for multipliers
Self-generated solar power is a very popular solution for a sustainable and economic power and heat production as well as for electric mobility matters today. Potential customers often prefer to approach companies which are active in sectors such as energy, building design and financing, for instance:
Energy suppliers
Energy consultants
Construction companies
Credit institutions
Due to their regular contact with costumers, who might be interested in investing in a solar power system, those potential multipliers are highly sought-after cooperation partners in the business of photovoltaic systems.
With a simple business model, EWS offers those partners a risk-free entry to the solar power market at no charge, and, in addition to that, answers to future topics such as energy storage systems, smart home and electric mobility. As an established and trustworthy contact, those companies can channel their customers' interests without any effort, provide competent advice and boost their "green" image at the same time.
With an energy price of less than 5 cents per kWh for large-scale installations and 9 - 14 cents for small private and medium-sized commercial PV systems, self-generated solar power is also the most economic way of becoming independent of future electricity price increases in Northern Europe today. As a consequence, the forecasts for a global PV growth are very promising.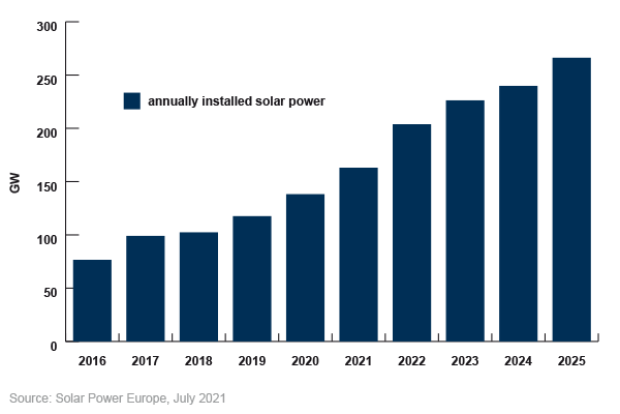 Global PV growth. Read more here.
New demand trends such as energy storage systems, solar-powered heat pumps and electric mobility contribute to the positive solar outlook. The PV industry is on its way to becoming a supporting pillar of the energy transition and climate protection. New business models also offer excellent opportunities for companies outside the industry to benefit from this development.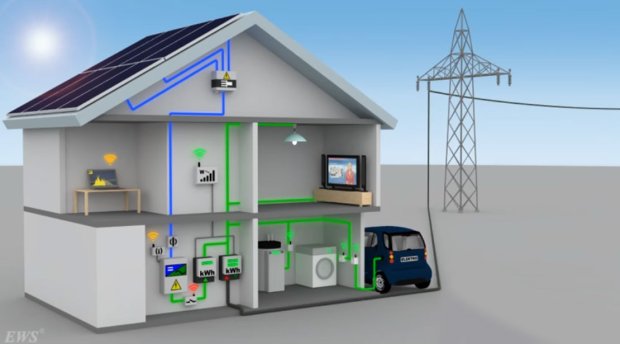 Solar power is economic. Read more here.
With our experience of more than 35 years in the solar market we see excellent opportunities of success in every stage of the value chain, as long as the required expertise is available. As a supplier, however, you are under particular pressure due to the fierce competition on the one hand and the warranty obligations on the other, especially in the light of the constantly tightening consumer protection regulation.
As an operator of a solar power system, you achieve the best ratio between risk and profit if the system is built on your own property and you have made no compromises on the quality of the acquired components and services.
As an intermediary of contacts (multiplier), you also have major advantages and even less risks.
Variants of the added value in a PV project

We would like to exchange views on the opportunities and risks of each position in a personal conversation with you.
No matter how you position yourself: EWS is happy to be your partner!
EWS provides you with a free white label version of our planning and information portal for the integration on your website in the design of your choice. In case of success, you receive a commission for customer leads which is determined by the order value.
Our services:
Lead management
Projecting
Optimization of purchase
Warehousing
Transport logistics
Project management
Customer service
Warranty service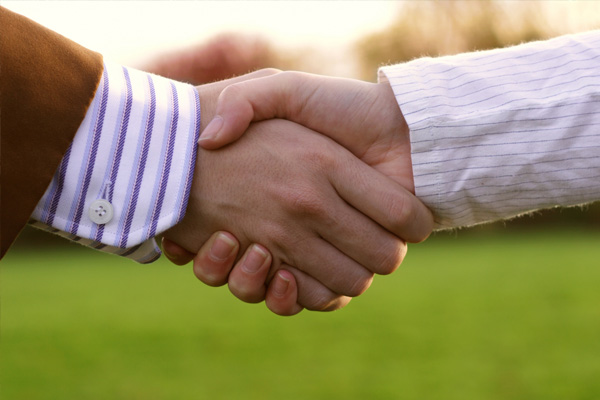 For the planning and installation as well as the after sales service, we provide you with an experienced installer from the respective region. This partner is responsible for a sound calculation of the costs and the billing of the costumer right after the completion of the system. All of the services we provide to you and your customers take place within the framework of a well-established process management within the proven network of our distribution partners.
Responsibilities of the cooperation partners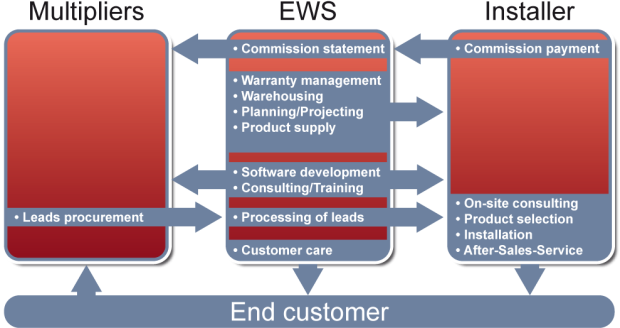 Your customer contacts and our process structures are the keys to developing valuable market potential together.
In order for you to you make a competent impression from the get-go, we offer you a complete information package for the integration on your website – with us providing regular updates of the content. With our website configurator QuickContent, you can choose from many content and design options and quickly and easily put together a solar content package in an individual design.
More information here.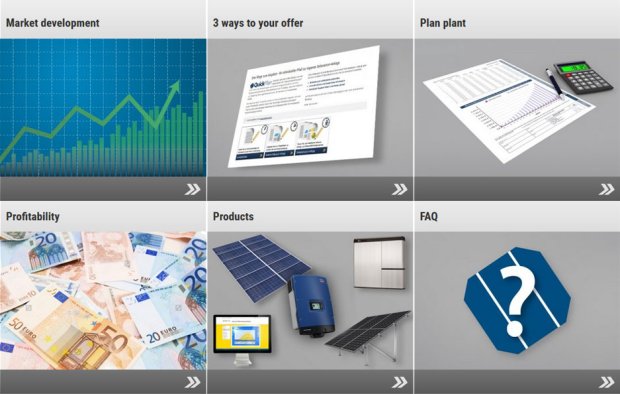 See for yourself which options would be available to your costumers by integrating our communication and planning tool QuickPlan on your website.
Already integrated into your QuickPlan portal would be your own online project management for optimal control and tracking of all processes:
Full insight into all project details
Fixed procedures and response times
Automatic reminder function

You have sole access to this password protected area, but you can always contact us for assistance and explanations about the use of the tool or the status of individual projects.
For the technical integration of our tools into your website, we have already pre-assembled four variants.
Our white label online tools can be customized to fit the design of your website. EWS will provide regular updates of all contents and data. QuickPlan allows your customers to get to know all relevant parameters for a sound project planning. This is not required for the calculation as all required data are preset to average empirical values.
If your customers are interested, they can individually adjust all parameters or just are provided with a quick first impression including:
System planning
Yield forecast
Calculation of profitability
Documentation of results

Your costumers can choose from 3 options how to get an offer: They can simply enter their contact details, have a rough project outline or, with just a few clicks, come up with an approximate evaluation of the prospects of success for the planned solar power system.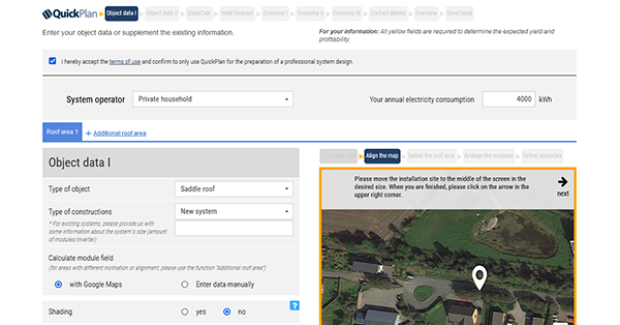 The input mask of QuickPlan is clear and intuitive even for laypersons. Just try it out here! After only a few clicks, you will receive a result and a documentation which includes tabular and graphical evaluation.

The digitization of all communication and planning processes is the key to success in the solar industry!
We offer your customers the complete fulfilment of all tasks, which arise in the course of the project, thanks to the well-established cooperation with experienced partner installers from the particular region. The craft businesses from our network carry out the following tasks:
The collection of the object and consumption data on site

The comprehensive and individual consultation of your customers

The plant design and product selection
The handling of all formalities and registration
The professional installation and commissioning
The warranty provisions and after sales service
We basically take over all business processes and you offer your customers real added value!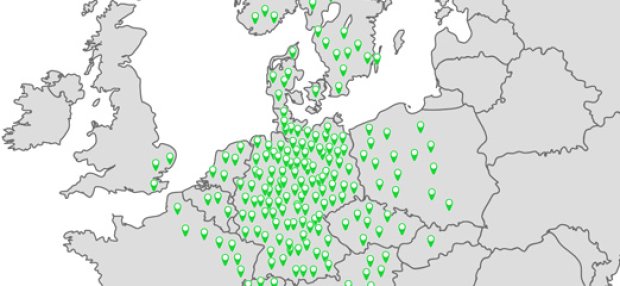 Over 1,200 installer partners are already organized in our network. We are happy to include other regional craft businesses.
Competition in the solar market is tough. Let us, together with our network of experienced partners, make the most of your customer contacts and you will receive a secure commission.
You can continue to focus entirely on your core business. On top of that, you get:
An upgrade of your website
A non-binding, neutral positioning in the solar market
A great potential for cross-selling
Access to detailed market and technical knowledge

… ... as well as the opportunity to get an idea of the prospects in the PV industry, always supported by a well-established network of partners who will stand by your side!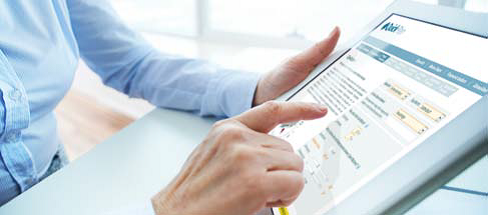 This means for you:
No investments
No additional staff required
No margin pressure
No legal risks

In contrast to many other suppliers of white label portals, we do not charge any user or license fees. Unlike other providers of online platforms, EWS is neither interested in trading customer data. The EWS online tools are supposed to offer your customers valuable expert information and sound calculations. You will find no package deals as every solar electric project must be calculated individually in order to optimize costs and benefits.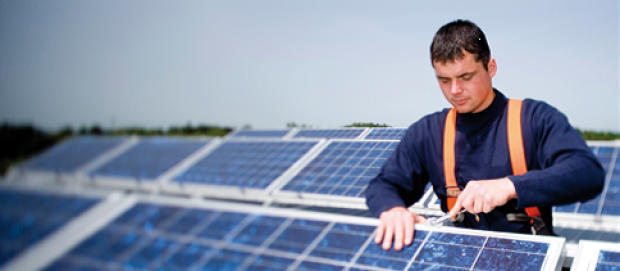 To ensure the satisfaction of your customers, we only forward their projects to well-versed and reliable installer partners who commit themselves to adhering to clearly defined process standards.
With more than 35 years of experience in the photovoltaic market, we assure the highest quality standards of the components used as well as their constant availability, thanks to efficient warehousing and delivery logistics. Our portfolio only includes market leading suppliers with many years of experience and reliable manufacturer's warranties.
Exemplary commendatory letters of our suppliers and customers can be found here.
In order to find out how we can support you best in your market entry, we will gladly arrange for a personal meeting. If your interest in co-operation with EWS intensifies, we would like to present our further offers to support your success. All provided services, including our white label advertising materials, are free of charge for you.
If you have any questions or would like to arrange a non-binding visit, your contact person is at your disposal.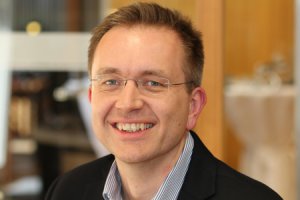 Kim Möller
Business development - multipliers
Phone: +49 15 20 / 1 61 55 10
E-Mail: k.moeller@photovoltaics.eu
The next steps:
Workshop-style meeting with workshop character
Conclusion of the cooperation agreement
Integration of the tools on your website
Internal training (optional)
Coordination of PR campaigns
More about this in our partner area, your access code can be found here.
Our online portals can already be found a hundredfold on websites from partner companies in different designs. We are currently in contact with more than 3,000 potential multipliers, of whom about 40 % are already taking specific steps towards a cooperation with EWS.