Good news come in twos: With the brand-new Alpha Pure modules and the next generation of the popular TwinPeak line manufacturer REC launches not one but two attractive PV solutions, suitiable for residential and commercial rooftops alike. Alpha Pure is based on the award-winning Alpha technology platform with heterojunction half-cells, but with notable improvements in performance, sustainability, and design. The TwinPeak line presents itself in its fourth iteration with a newly modelled cell structure and even more durability.
Alpha Pure: Performance, efficiency & look re-defined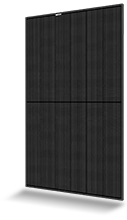 "Gapless" cell layout: Eliminates gaps between the 132 half-cells, resulting in higher output density and utilising the entire module. In combination with a black backsheet this results in a uniform black appearance producing up to 219 Watt per sqm and up to 405 Wp at 21.9 % efficiency.
Heterojunction cells: The best of both worlds from crystalline and thin-film technologies in one hybrid structure. Crystalline n-type cells provide extra protection against light-induced degradation (LID).
100 % lead-free: The REC Alpha Pure is completely lead-free including cell connections, cross connectors and junction box soldering. This means it's RoHS compliant, even though these regulations don't directly apply to PV modules. No lead also means an easier recycling job at the end of the lifecycle.
Leading temperature coefficient: For better performance in hot climates.
TwinPeak 4: Lots of power for cost-conscious customers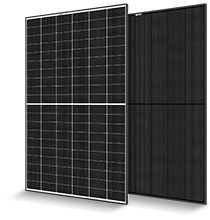 More per module: With a maximum nominal power of up to 375 Wp the 120 monocrystalline half-cells of the Series 4 reach an even higher performance standard than their predecessors.
More design options: In addition to a black frame with a white backsheet, an all-black variant is also available.
More resilience: TwinPeak 4 modules can support loads of up to 7,000 Pa, which in combination with their tried-and-true 30 mm frame and support bars from the Alpha- and N-Peak-Series results in a great boost to strength and durability. There's a reason Alpha Pure modules use the same technology.
Alpha Pure

TwinPeak 4
TwinPeak 4 Black
Performance
395 / 400 Wp
370 / 375 Wp
360 / 365 Wp
Cell Technology

Heterojunction
Mono-PERC
Product Warranty
20 Years (25 Years when installed by REC Certified Solar Professionals)
Linear Performance Warranty
25 Years
Annual Degradation (Years 2-25)
0,25 %
0,5 %
0,5 %
Power in Year 25

92 %
86 %
86 %
Data Sheet

Download
Download
Download
Website
Link
Link
REC Product Brochure

Download

Both new modules are part of the premium REC ProTrust warranty package. Installations by REC Certified Solar Professional installers qualify for a 25-year long warranty on the products and their performance (20 years + 5-year-extension for REC Certified Solar Professionals). Solar professionals are also eligible for compensation for certain repair- and upkeep expenses, should these become necessary within a warranty window of 10 respective 25 years. The compensation sum is also scaled according to size of the installation. For details please refer to the following info graphic:
REC ProTrust warranty explained:


Availability and pricing
First shipments of REC Alpa Pure modules (395/400 Wp) and TwinPeak 4 (365/375 Wp) are expected in Europe for August 2021. So make sure to order fast!
You can find your purchasing conditions in our calculation tool QuickCalc is available for you in our EWS partner area. Our sales team is looking forward to your orders and inquiries.