We are excited to present to you our new supplier for mounting systems: ESDEC is a renowned solar brand for reliable and innovative rooftop systems.
For installers by installers
In the Netherlands and Scandinavia, the Deventer-based company already has many fans, but it is also increasingly popular in Germany and Poland. Founded in 2004 by two installers, ESDEC develops, produces and sells pitched and flat roof systems at an attractive price-performance ratio – offering solutions for small single-family homes, commercial properties and office buildings up to spacious industrial roofs.
The standout of this line-up is certainly the FlatFix Wave Plus for east-west elevation on big flat roofs, since it requires no tools at all and can be installed in three easy steps:
Align and fold out the pre-built base units
Click the high base elemtent and stabilisers into place
Mount solar panel with the unique panel clamping
Please refer to the product overview in the last paragraph of this news for which product series are available for your projects.
We also highly recommend watching the informative product videos! It is impressive to see, just how quick and easy the setup is and how sophisticated the systems are regarding the security and integrity of roof coverings.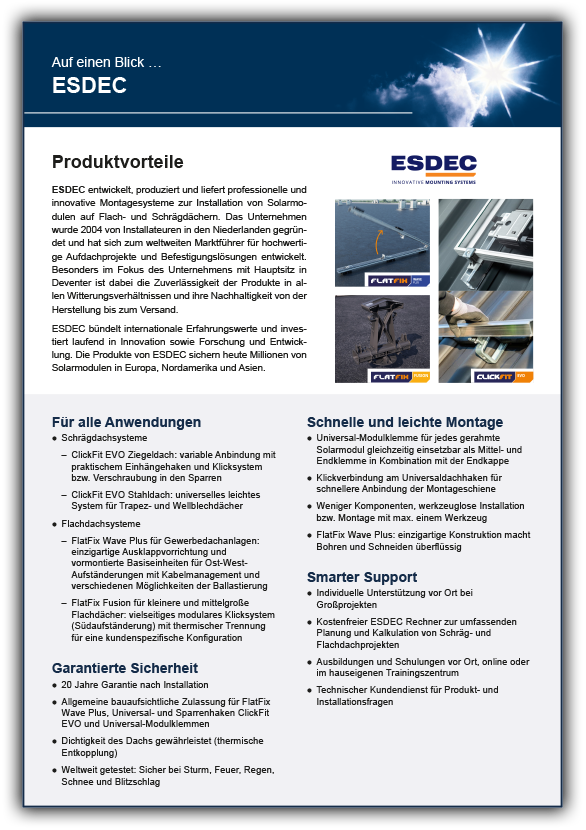 Speaking of security: All ESDEC product lines include a 20-year warranty after installation. Please have a look at our fact sheet "ESDEC product advantages" for more details – you are welcome to use this for customer information, as well.

Our new partner shines not only with their product variety but also a comprehensive package of after sales services:
Personalised on-site support for large-scale projects
Free ESDEC calculator tool for all necessary planning of pitched roof and flat roof systems
Technical support for product and installation issues
Training and seminars on-site, online or in-house at ESDEC
We currently working with ESDEC to offer a seminar. We will keep you updated.
Prices and availability
For orders and questions about the availability of these components/mounting systems, please contact our sales team. As usual, you will find the purchasing conditions in our calculation tool QuickCalc as well as price and availability information in our QuickShop. We look forward to your enquiries!
Product overview
These are the product series by ESDEC at a glance:
Flat roof systems

Pitched roof systems


FlatFix Wave Plus

Elevation East/West

Ideal for large-scale projects

Pre-built base units: Align and unfold

No tools required

Built-in cable management + equipotential bonding


FlatFix Fusion

Southward elevation

User-friendly modular click system

Easy to build around obstacles


Uses lightweight materials

ClickFit EVO Steel roof


For trapezoidal and corrugated steel roofs

Suitable for power optimisers

Low or high mounting possible

Just 4 components – 1 tool


ClickFit EVO Tiled roof


Convenient hook and click system

Made from high-quality aluminium and Magnelis coated steel

Universal and quick – 4 components, 1 tool


Further information:
Product page
Product page
Product page
Product page
Product video
Product video
Product video
Product video
Brochure
Brochure
Brochure
Brochure