LG Chem, one of the world's leading manufacturers of lithium-ion batteries, has extended its product range of home storage systems: Our partner now offers both low-voltage (48 V) and high-voltage (400 V) models.
The three low-voltage variants with nominal capacities of 3.3 (RESU3.3), 6.5 (RESU6.5) and 9.8 kWh (RESU10) will be available in Europe in the next few weeks, whereas the market launch of the two high-voltage storage systems (RESU7H and RESU10H) is expected for November. Depending on your customer's load profile and the PV generation, you can select the most cost-efficient system.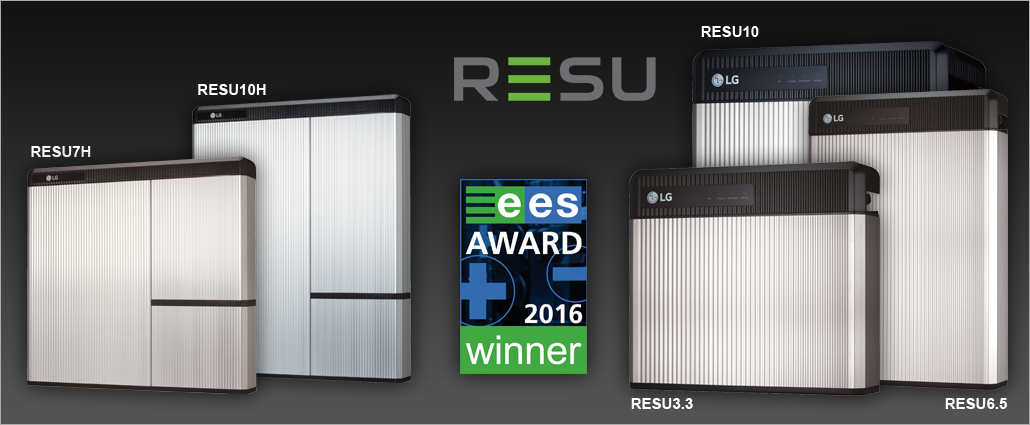 Look forward to a state of the art storage system which offers more flexibility
LG Chem's new generation of storage systems has been completely redesigned both technically and aesthetically leaving a newly developed battery cell as the centrepiece. The new advancements provide for a longer livespan, higher efficiency and a higher energy output. Thanks to the space-saving design of the cell (which is due to the unique lamination and stacking process), the new variants of the series are also smaller and lighter than the previous models. Furthermore, the RESU storage systems supersede its predecessors in terms of flexibility:
They are suitable for indoor or outdoor use (thanks to the IP55-certified, waterproof casing).
A floor- or wallmounted installation is possible.
The storage systems are compatible with various inverter types, e.g. Sunny Island (low-voltage models) and the Sunny Boy Storage 2.5 (high-voltage) from SMA.
With the expansion kit RESU Plus, it is possible to combine two RESUs within the low-voltage class together, e.g. RESU3.3 and RESU10. The system can adapt easily to increasing levels of energy consumption.
For more information on the RESU storage series, please have a look at the datasheet, the warranty conditions, certificates and other promotional material which is available in our partner area. Your purchase conditions can be found in our calculation tool QuickCalc.