LG Energy Solution, the new name for LG Chem's battery business, has unveiled its latest high-voltage storage series for the residential sector. RESU Prime (available in a 10H and a 16H variant for larger energy demands) will soon be launched on the European market.
Customer wishes incorporated into the product development
The third RESU generation, a product of technical innovation and the feedback from system operators and installers, is characterised by a higher energy throughput and efficiency. At its core is the new JH5 battery cell which has a higher energy density and can be packed more densely. At the same time, it contains less cobalt.
The RESU Prime batteries especially stand out due to the following features:
Greater capacity to back up loads during peak times and emergencies
Scalability in order to meet growing energy demand, e.g., to integrate electromobility solutions
App-/web-based RESU Monitor for installers and users enables remote monitoring of the battery status, diagnosis and software updates
Modular design of the battery allows for a streamlined transportation, handling and installation
RESU Prime 10H and 16H: a comparison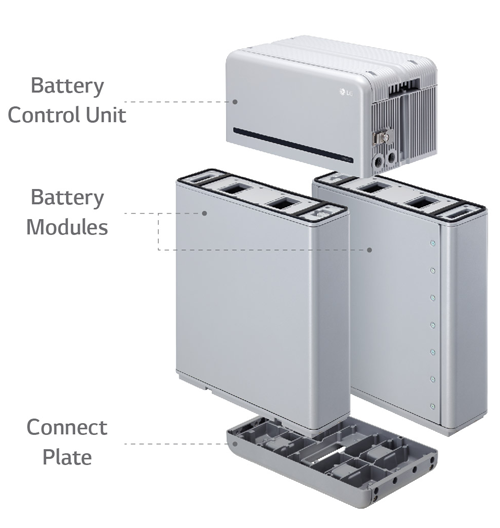 As it is known from the RESU 10M, the RESU Prime 10H and 16H have a modular design which allows for the battery control unit to be replaced on site in a time- and cost-saving manner if necessary. The two battery modules are mounted on the connect plate. Unlike the previous models, the screw connection is made from the side.
The two battery modules are mounted on the base plate. Unlike the previous model, they will be screwed in place from the side.
Another adva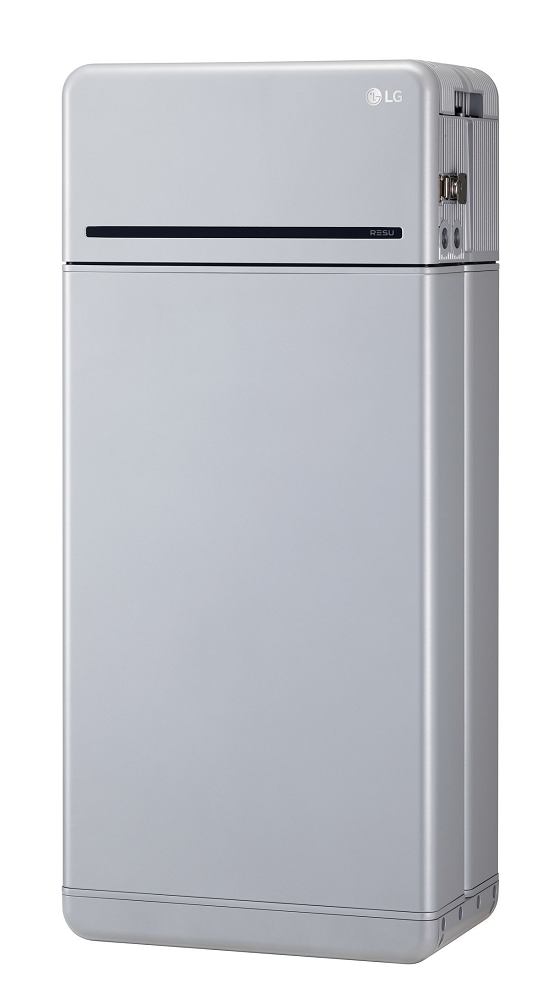 ntage: Unlike in the second RESU generation where the desired communication standard (RS485 or CAN) had to be selected upon ordering, both standards are now available in the new Prime series. A parallel connection of two units to a capacity of 19.2 kWh or 32 kWh is possible. It can be determined by the installer on site which role (master-slave) is assigned to each battery in this cascading solution.
The two products will be compatible with leading inverter manufacturers such as SolarEdge and SMA.
Further technical features can be found in this overview: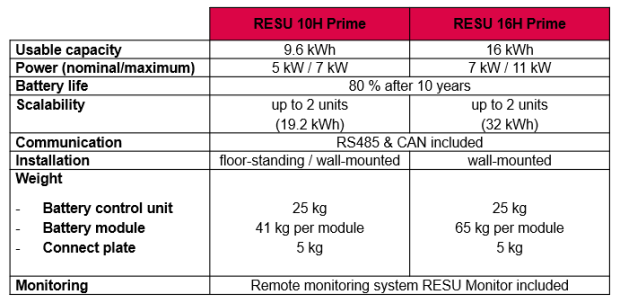 Availability and purchasing conditions
We expect a confirmation of the inverter compatibility and availability for both RESU Prime battery storage systems during the second quarter of 2021. By the way: the RESU low-voltage batteries will remain unchanged (contact our team for availability). LG Energy Solution is also working on a battery series that will be compatible with the KOSTAL and Fronius inverters, the RESU FLEX series. To date, the production start is not known yet for this series, we will keep you informed.
You can find your purchasing conditions in our calculation tool QuickCalc, which is available in the partner area. We are looking forward to your inquiries.