Are you looking for a planning tool which is easy and intuitive to use and which also serves as a communication platform for your customers and supplier? QuickPlan is our overview platform for your solar energy projects. Create in a trice first project drafts, evaluations and documentations while having access to the current product data and prices as well as the object and customer information provided by your project partner.

Free of charge planning tool
The QuickPlan tool does not replace a professional project planning following an on-site visit, but it creates a meaningful overall picture from the most relevant technical and economical success factors, thus helping your customers with the buying decision. It also serves as the data basis for a detailed project design in case of an order. Inside the planning process, the most comment parameters are preset for a convenient user experience.
Reliable and quick calculation of costs
For a quick and reliable estimate of costs you can use our approved calculation tool QuickCalc which is already integrated. As EWS constantly updates the products' purchase conditions and availabilities, you can be sure to always have the latest reliable information at hand.
QuickPlan for your website
Upgrade your own website with QuickPlan: We offer you the opportunity to integrate our planning tool on your website free of charge. QuickPlan is completely responsive and adapts exceptionally to desktop and mobile screens.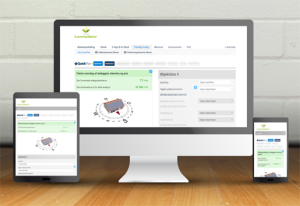 Advantages:
All inquiries generated on your website will reach you directly and without any detours.


Prior to a thorough consultation, your customer can learn more about solar and provide you with information on his/her project. This "prequalification" will save you a lot of time.


You will be informed by mail about new inquiries and will be provided with the login details to access and process the project. Simultaneously, your client also gets information about all status modifications. In this way you can exchange all the important data as often as you desire until the planning is completed.
The design of the tool on your website is up to you: We offer you a guide for the individual configuration of the layout frame. There are no license and maintenance costs, either.
Project administration facilitates the lead management

The integrated project administration will facilitate your project review and simplify the communication and data exchange between you, your customers and EWS. Via your password protected login you can easily manage higher quantities of inquires and you can send out impressive detailed documentations, with your own letterhead and company logo if desired.
The road to your QuickPlan account
Please log into your partner login at www.photovoltaics.eu/login, then have a look at the orange status line in the top of our website:
Click the button "My QuickPlan projects" in order to access your project administration.
In order to integrate QuickPlan on your own website, please go to "My data".