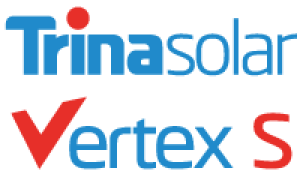 "Small in size, big on power" – this is the new Vertex S module series by Trina Solar in a nutshell. We have added the TSM-DE09.08 (black frame, white backsheet) and a fullblack version (TSM-DE09.05) to our product portfolio. Both models can be ordered at EWS from today.
At a glance: the main features of the Vertex S modules
Model
Vertex S
TSM-DE09.05
TSM-DE09.08
Image
Dimensions & weight

1,754 × 1,096 × 30 mm // 21 kg
Power output

380/385 Wp
395/400 Wp
Cell layout

5 x 8 mono PERC cells (210 mm, 1/3 cut)
Application
residential and small commercial roofs
Product warranty

15 years
Power warranty

84.8 % after 25 years
Available from stock

Expected for end of April/
start of May 2021
Expected for
mid-April 2021
Downloads
Datasheet
Datasheet
Links
Product site
Product site
Sizing and design fit residential and small commercial roofs perfectly
With a size of 1,754 × 1,096 × 30 mm and a weight of 21 kg, the Vertex S are easy for solar installers to handle and to install.
The fullblack module sports a very attractive design, thanks to the homogeneous cell colour, which is controlled by machine sorting, and the ultra-thin virtually invisible busbars.

Origins of the high power output
The Vertex technology platform has been tried and tested by Trina Solar in large-format project modules since the beginning of last year. Due to the great success, our partner has decided to use it in smaller module sizes for roof tops, as well. The basis of the Vertex platform are 210 mm mono PERC cells, which are cut into thirds by using a new and completely non-destructive cutting technology. In addition to a multi-busbar design, Trina has minimized cell spacing (0.5 mm) for more active cell area. As a result, the new Vertex S family increases the output power to currently up to 400 Wp. This corresponds to a power increase of up to 60 Wp (or 23 %) compared to previous product generations. Module efficiency is increased to more than 21 %.
The Vertex S product series is compatible with all well-known inverters, optimizers and mounting systems for residential and commercial applications. In addition, your customers will benefit from improved reliability – including a new, more robust frame design, an extended product warranty of 15 years as well as a compelling 25-year power output warranty.


Your purchasing conditions can be found in our QuickCalc calculation tool (access via our EWS partner area). Our sales team will be happy to provide you with information on the available quantities. Do not hesitate to contact us with any questions on the new Vertex S series. We are looking forward to your inquiries and orders!