We have extended our range of storage systems by including the Mercedes-Benz Energy Storage Home of Deutsche ACCUMOTIVE.
Behind the company which was founded in 2009 stands the innovative global corporation and financial heavyweight Daimler AG, which is committed to the development of high-performance, reliable and long-life batteries. In the town of Kamenz (northeast of Dresden), ACCUMOTIVE produces batteries for electric and hybrid cars, since 2015 also the stationary Mercedes-Benz Energy Storage Home. The main focus of the wholly-owned Daimler subsidiary is on durability, efficiency and continuous development of its products.
The storage system, which is based on advanced lithium technology (nickel, manganese, cobalt), can be used to retrofit existing PV systems as well as for new solar electric installations. It has an expected residual capacity of 80 % after 10 years with 8,000 total cycles and an overall system efficiency of 97 %.
Moreover, it is scalable from 2.5 kWh to 20 kWh and can be individually customized for wall- or floor-mounting due to the modular structure (please specify the desired model when ordering), thus, "grows" with increased energy requirements. The Mercedes-Benz Energy Storage is compatible with the SMA Sunny Island series.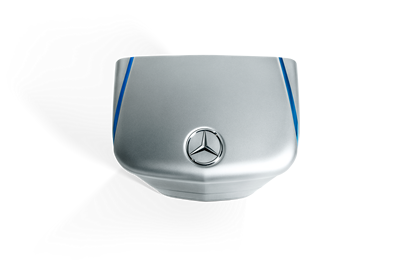 For more product details, please see the downloads and the technical documentation which will be available in our partner area soon. The prices can be found in our QuickCalc calculation tool. The Mercedes-Benz Energy Storage will be in stock in late March / early April 2016. However, it can be ordered immediately.
Feel free to contact our sales team for further information.
Download: ACCUMOTIVE product advantages
Download: Datasheet Mercedes-Benz Energy Storage Home