SolarEdge presents a new generation of its three phase inverters with Synergy technology for middle-to-large-scale commercial PV systems and solar projects. The new inverters will be available in four performance categories with capacity of up to 120 kW per device. The 66.6K, 90K and 100K variants for 400V grids and the 120K model for 480V grids replace the 55.5K and 82.2K devices (these will be discontinued) for more flexibility, choice and more power overall. Options for DC-oversizing of up to 150 % and a fully integrated PID correction during nighttime ensure maximum performance.
A unique compatibility with power optimisers and a modular design set SolarEdge models apart from other commercially available inverters.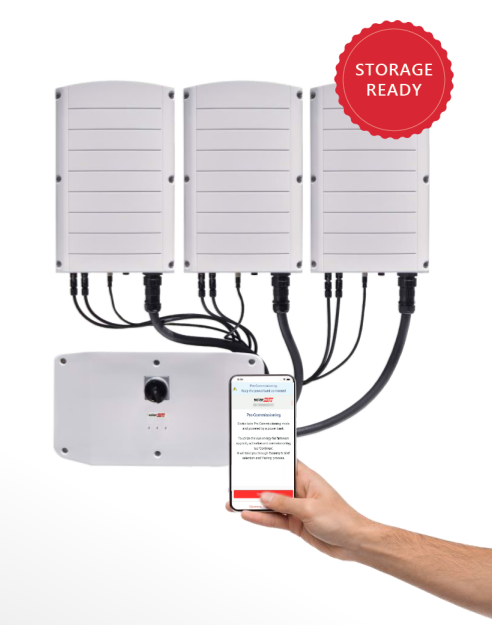 Each inverter consists of – depending on size – two or three identical Synergy units and one Synergy manager. Its small, lightweight design (only 32 kg) ensures an easy and cost-efficient installation. Each Synergy unit runs independently, which lengthens operation time and simplifies maintenance. Communication of the AC and DC ports runs together within the management unit. This means tidier cable management as well as no need to open individual inverters during the installation.
Another benefit is the streamlined launch of the device(s). An in-advance-start-up function validates components and wiring on-site and before they are connected to the grid. This ensures a correct and successful connection before the installation is finished. The application SetApp enables users to centralise multiple inverters within the same system. In this case configuration is done via one inverter and its settings get cloned onto all other devices with the same product number, resulting in reduced start-up time, less error potential and all inverters on the same page.
The security and monitoring features of Synergy inverters are top-of-the-line for high failure safety and consistent yield across its lifetime:
Thermosensors to detect faulty wiring
Arc protection and an optional fast-shutdown-function
Monitored and replacable surge protection devices (SPD) against lightning strikes and other natural events: integrated RS485 and Type-2-DC-SPDs with an option for Type-2-AC-SPDs
Optional integrated DC safety switch makes external DC isolator redundant
Monitoring on the module level with full ethernet and telecommunication connectivity for complete transparency
Further details and specifications can be found in the data sheet or these three product videos: Mounting, DC & AC connection, SetApp guide. You can find your purchasing conditions in our calculation tool QuickCalc which is available for you in our partner area. We are expecting first shipments of the synergy inverters for July 2021. Our sales team is looking forward to your orders and inquiries.