The wait is over: Order the new Fronius GEN24 Plus inverters from EWS now! The name stands for versatile hybrid Symo and Primo inverters with integrated back-up power. Furthermore, the new generation features a unique variety of integrated functions for residential applications – a big step closer towards realizing Fronius' vision of "24 hours of sun"!
You can choose between the single-phase Primo GEN24 Plus with power classes ranging from 3 / 3.6 / 4 / 4.6 / 5 / 6 kW and the three-phase Symo GEN24 Plus with 6.0 / 8.0 / 10.0 kW.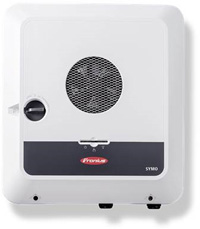 The inverters' most outstanding features are:
Integrated basic grid back-up, thanks to PV Point: In case of a power outage, important loads can run on solar power (single-phase, up to 3 kW) provided by a socket. This PV Point can be used with as well as without battery.

Optional "full back-up": The entire household, i.e. all loads, can be supplied with emergency power. The changeover time to emergency power supply is below one minute. What is more, the battery can be simultaneously charged during power outages.

Integrated data communication: Fully integrated datalogging, Wi-Fi, ethernet, energy management, web server and a range of interfaces help to achieve the highest possible degree of self-sufficiency.

Flexible design: The GEN24 Plus inverters have 2 MPP trackers, a high system voltage and a wide DC input voltage range. These factors provide flexible design options for complex roof surfaces, e.g. different roof orientations, shading of one or two strings or the use of residual modules.
Easy installation and simple servicing: Quick-release screws, push-in spring terminals and a sophisticated wall mounting system (SnapIN concept) offer solar installers great time and cost savings.

Optimized commissioning due to automatic Wi-Fi connection: Commissioning can be carried out in just a few steps via the user-friendly app on any smartphone or tablet.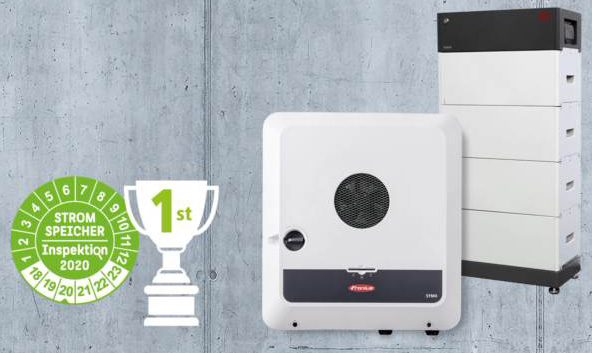 The Fronius GEN24 devices are suitable for new installations or retrofitting existing systems. They are compatible with BYD batteries of the Premium HVS and HVM series. Recent tests show that this combination is particularly efficient. For instance, in the Energy Storage Inspection 2020, a study conducted by HTW Berlin – University of Applied Sciences, the combination of the Fronius Symo GEN24 Plus 10.0 hybrid inverter and the BYD Battery-Box H11.5 secured first and second place in the two study reference cases. For more information, please have a look at the Fronius press release.
More technical details on the new inverter generation can be found on the product websites:
Link: Product website Fronius Primo GEN24 Plus
Link: Product website Fronius Symo GEN24 Plus
The first deliveries are expected in June 2020. However, the GEN24 products can already be ordered. For your purchasing conditions, please have a look at our calculation tool QuickCalc which is available in the EWS partner login.
We look forward to your orders. If you have any questions about the Fronius GEN24 products, please do not hesitate to contact our sales team.