With the latest version of the PV calculation tool QuickCalc 3.0, EWS customers can quickly and reliably find affordable, technically reasonable and available solutions when designing and calculating their solar power projects. A video tutorial shows how this new updated version with sensational features closes the gaps between the free EWS online tools and supports solar professionals in their daily work.
Most of our customers have known and used QuickCalc for many years. It is embedded in the pro version of our planning and communication tool QuickPlan and allows for complete solar power systems (even complicated ones) to be designed and calculated in just a few minutes. In addition to providing direct access to the module field layout via Google Maps, QuickCalc 3.0 now helps to select a suitable mounting system and recommends energy storage systems while taking into account the individual power consumption and production. QuickPlan uses this information to create a yield forecast in no time and illustrates the system's profitability in a convincing documentation for the customer.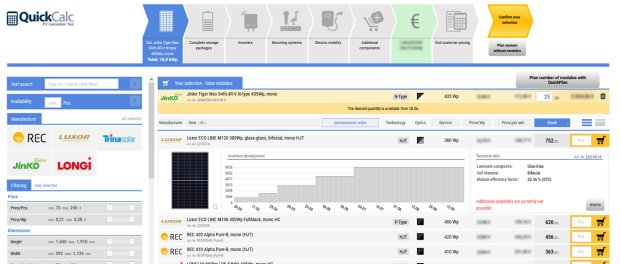 A reliable database for your project
The planning and calculation with the EWS online tools basically does not require any product knowledge: The product data is provided by the manufacturers on a regular basis and entered and updated by us. Therefore, our partners have access to the latest information for their calculations and during meetings with their customers. A new feature in QuickCalc which has only been available in QuickShop so far: Solar professionals can also get individual product recommendations by sorting, filtering and weighting criteria according to their own preferences. Product suggestions are always made by taking into account the technical compatibility of all components The experienced EWS team thus eliminates the need for time-consuming research or failed attempts for all users of the free online tools and ensures reliable planning results on a database that is always up to date. All EWS tools are interconnected and can be used intuitively, i.e., without instructions. Any EWS customer who has integrated (or will integrate) QuickPlan on his/her website in a design of his/her choice and free of charge – will benefit from the from the fact that their customers will enter basic project data themselves. This information will then be available in all tools for the planning and realisation.
Effective purchasing processes now also available for complete systems
Anyone who has experienced the unique navigation of QuickShop will greatly appreciate that this is has been adapted for the design and calculation of complete systems. QuickCalc provides solar professionals with information on the favourable, technically sensible product combinations for any solar power project and their availability in the future.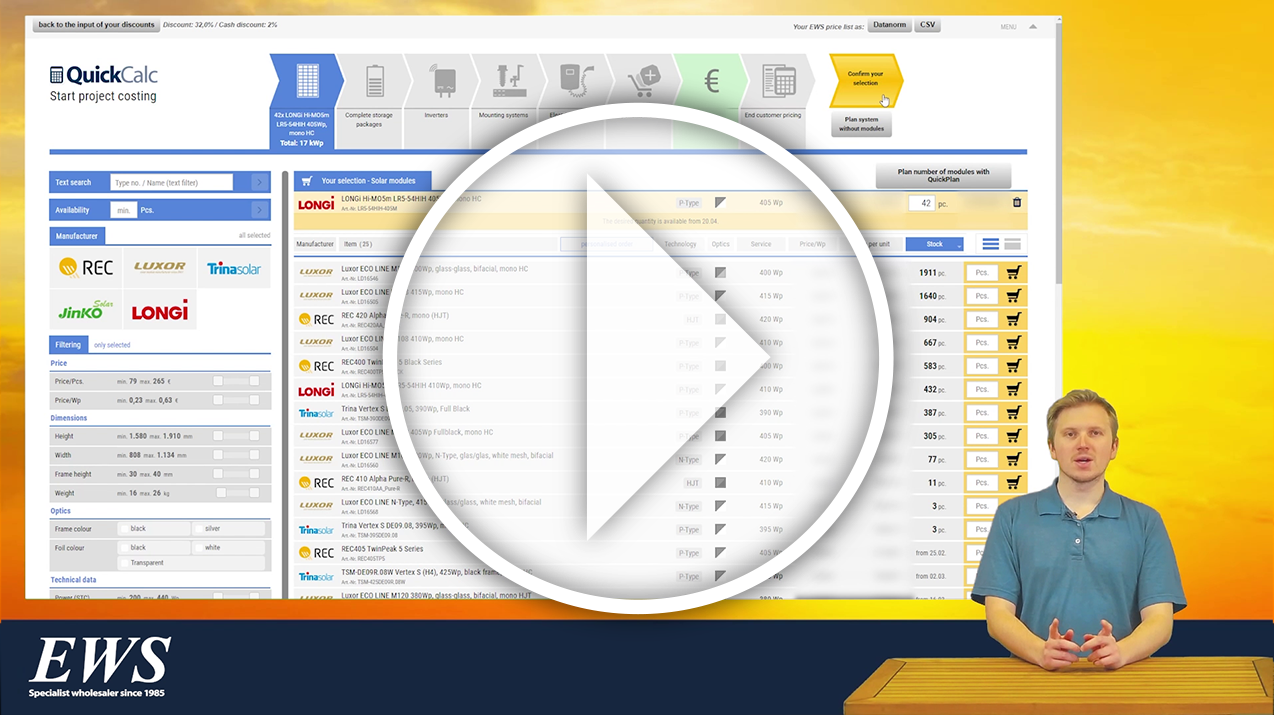 Caption: Tutorial – We show your what QuickCalc 3.0 can do
We explain in a compact video how QuickCalc 3.0 can facilitate the purchasing processes of solar companies. The focus is on filter functions and the display of product availability over time. As a wholesaler, EWS thus offers its customers unprecedented planning reliability with up to six months in advance – and, thus, the greatest possible reliability in this part of the supply chain. Of course, the new EWS system calculator can also be used to enter the shipping details, e.g., delivery on the desired date directly to the construction site or the individual calculation of freight costs.
Pre-qualification and concretisation of leads
Hundreds of solar installers already use an end-customer version of QuickPlan on their own homepage to advertise their services and expertise. By using these online-tools, interested homeowners can concretise their own solar power systems. The provided information creates a database for further design by the PV professional. This helps our customers to plan PV projects in a time-saving and safe manner and obtain orders easily and successfully, since potential customers have already been intensively advised online via QuickPlan. For a quick and adequate calculation of individual end-customer offers, QuickCalc 3.0 now also allows the customer to take into account his or her own expenses for installation and installation materials in the cost overview. Based on this data, the programme creates a complete end-customer offer which includes comprehensive and convincing documentation of the planning results in the design of your choice. EWS customers can manage these offers in their own QuickPlan project management tool.
Try out QuickCalc 3.0 right now and have a look at the new features. You will find the complete range of our online tools here.