The new version of our free planning and communication tool QuickPlan allows you to plan PV projects with several roof areas for your customers in a fast, secure and appealing way, including a module field design using Google Maps. Thanks to a comprehensive facelift, the use of QuickPlan is now easier than before and results can be generated faster. From now on, your customers can find even faster answers to all questions very intuitively and with only a few mouse clicks. What is more, they are provided with a reliable and convincing basis for the decision-making in the tendering phase. This further strengthens your customer loyalty, while you can keep track of your projects in your project administration at the same time.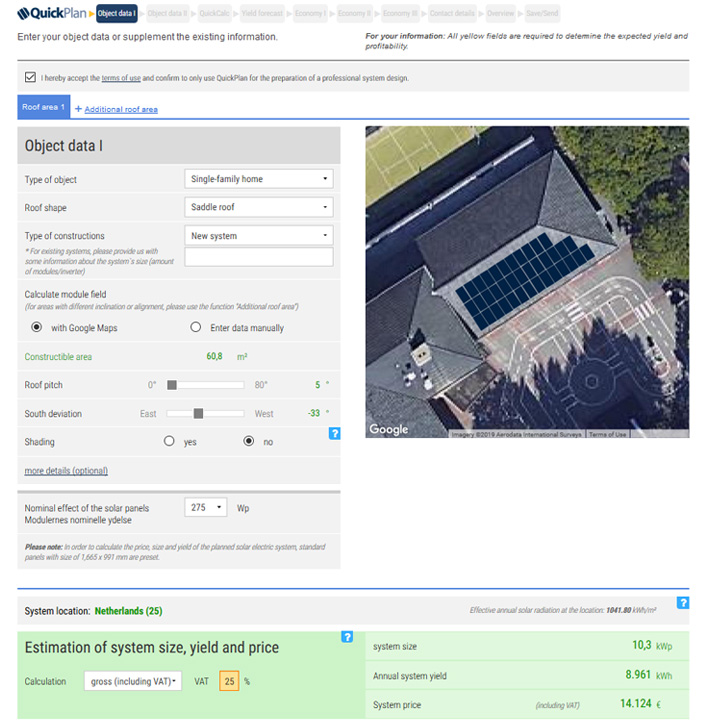 Designing solar systems without on-site appointment?
up to 5 module fields per solar electric system: Size and power of the planned generator field as well as the number of modules are shown automatically.
automatic module field design: Opt for blue standard panels or black modules and select the nominal effect of the panels.
compensation of perspective distortions
consideration of restricted areas: Thanks to the switchable transparency of the generator field, blocked areas (e.g. chimneys, dormers, etc.) can be identified more easily and superfluous modules can be removed more quickly.
QuickPlan 2.0 saves all project participants a lot of time in the tendering phase, thanks to a reliable and convincing project design in Google Maps.
If you have already integrated QuickPlan on your own website, it has automatically been updated. The online tool is still available free of any license charges and we are looking forward to receiving some feedback from you. If you have not used QuickPlan before, you can test our demo version at www.photovoltaics.eu. Alternatively, you can inform yourself about QuickPlan 2.0 and the possibilities of a free integration of the QuickPlan user portal in the partner area. Additionally, we provide you with a white-label version of our comprehensive information toolkit QuickContent to use on your own website.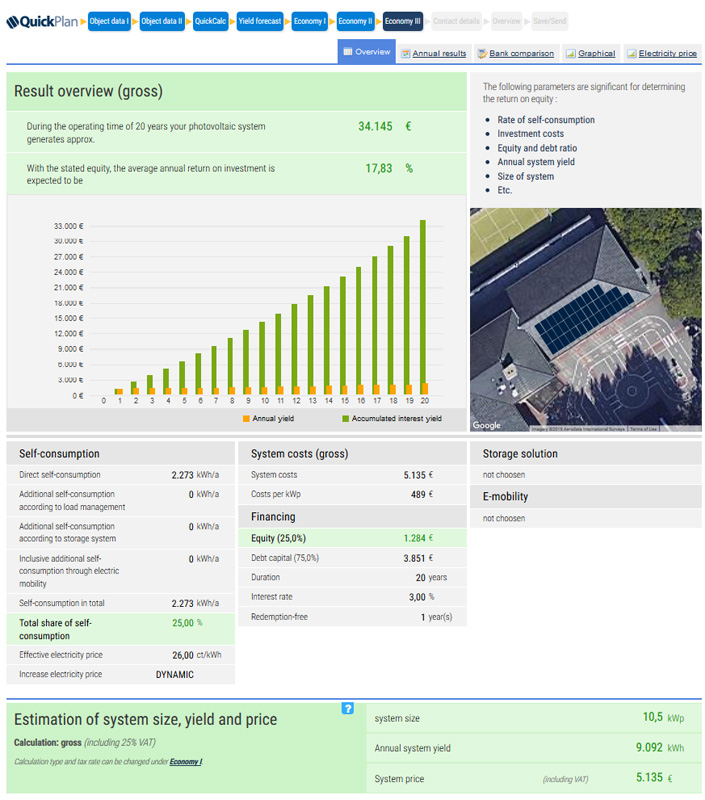 QuickPlan 2.0
Your all-in-one-solution

Module field dimensioning
Reliable cost calculation
Yield simulation
Profitability calculation
In addition:
Communication tool

Project management

All entries and results are automatically transferred into our online shop QuickCalc, which offers you our best priced quality components for your solar electric project. With one mouse click, you can then swap these with the products of your choice from our wide portfolio and send your enquiry or order directly to our EWS sales team.
QuickPlan 2.0
always takes into consideration for every profitability calculation: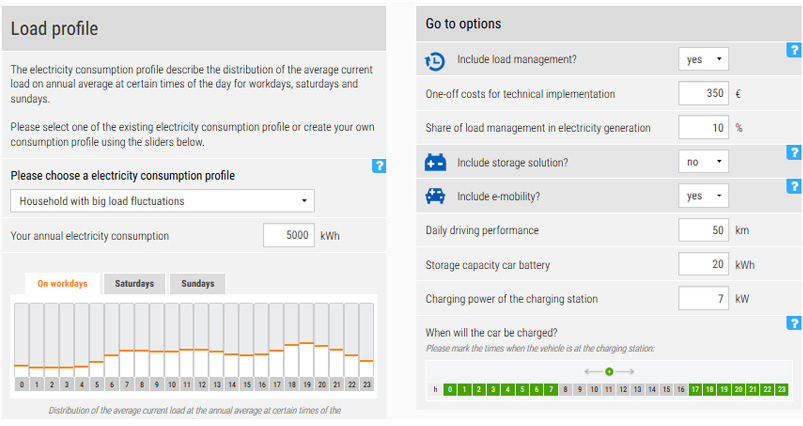 Power consumption profile
Development of electricity prices
Financing conditions
Maintenance / Insurance
Also, optionally: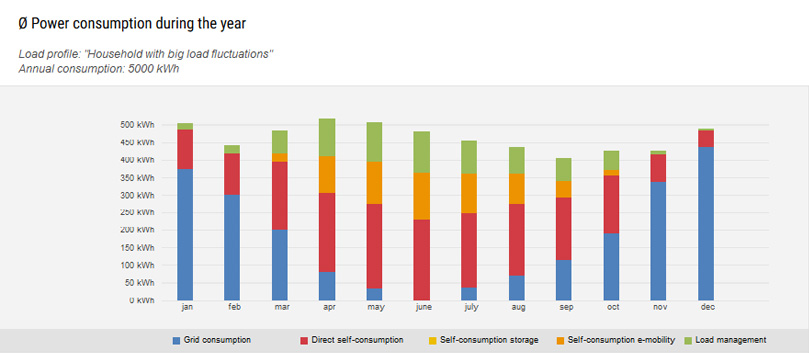 Self-consumption rate
Load management
Energy storage systems
Electric Mobility
Thanks to a multitude of adjustable parameters almost any project can be planned individually and reliably. Since most parameters are preset to an average value, a project outline is already created with just a few entries.
Example:

The Reichstag building in Berlin

East/West mounting
275 Wp standard solar modules
Several restricted areas


Complete module field dimensioning in only three minutes!

In addition, QuickPlan 2.0 also offers your customers a comprehensive documentation of the most important results, either online or for printing in PDF format.

For your customer talks:
The QuickPlan 2.0 project documentation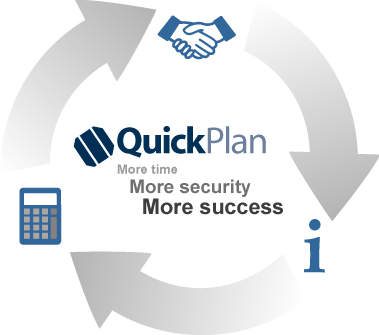 This documentation leaves nothing to be desired for your customers and is the ideal basis for discussion and decision-making for every PV project. Your contact person at EWS will be happy to advise you on the possible applications and the integration of our online tools. Also, we happily take suggestions and wishes into consideration for further advancements of the tool. Each presentation, as well as your individually configured EWS information package on your website, appears in the design of your choice and with your company logo.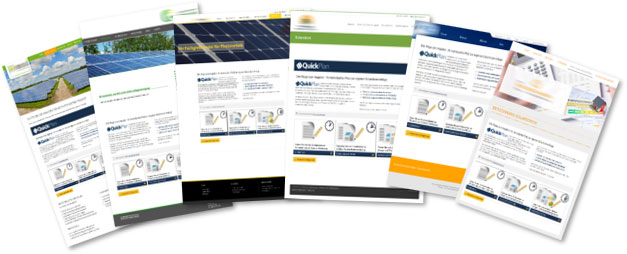 QuickPlan is an ideal addition to your website as it helps you to speed up your lead management and make it more successful and safer. Let your customers see for themselves how a solar electric would look like on their house – it takes only a few clicks!

Get our 3D animations: We offer you and your customers four short films on the functioning, planning and installation of a solar electric system. The animations, which are available in QuickContent, can used during events and fairs or can be integrated on your website. For more information and a sneak peek, just log in to our exclusive EWS partner area and go to website configurator / QuickContent.
Try it yourself and share your impressions with us. Have fun with it!