Product availability is one of the most prevalent topics in the PV industry currently (read more) and is one of our most requested to comment on, along with price and transport modalities. With our new online tool QuickShop, we now offer you personal shopping advice around the clock – and make shopping faster, more convenient and clearer for you even during times of high demand and strained supply chains.
We would like to draw special attention to the following features of our web shop for individual components, which you can find as of now in our login area:
Transparency of availability
In addition to standard info such as product characteristics, price and stock, PV professionals can view the projected availability of all products in the coming months and their prognosis for reordering beyond the visible lead time.




Reliable delivery planning is extra important when coveted components are in short supply.




Find the right products easily
One especially useful feature of QuickShop is the product recommendation. Products can not only be selected by product group, manufacturer, technical data, availability and price, but can also be weighted according to personal or project-specific preferences. Simply adjust your priorities for the product you are looking by using the slider: The most important parameters for each product group will be taken into account.




QuickShop offers solar professionals personal online advice 24/7.
Overall overview
QuickShop offers everything at a glance when you switch from the list view to the detail view or display the product sheet, including images. Even for products that are already in your shopping cart, you can easily compare components – QuickShop automatically suggests alternatives and accessories at any time. Before you complete your order, the freight costs are automatically calculated, which is becoming ever more important when calculating your total expenses.




EWS customers use all tools free of charge and without licence fees.
The perks of our online shop at a glance:
Easy-to-use filter and sorting options
Automatically offers alternatives and accessoires
Shopping cart compares components
Automated calculation of freight costs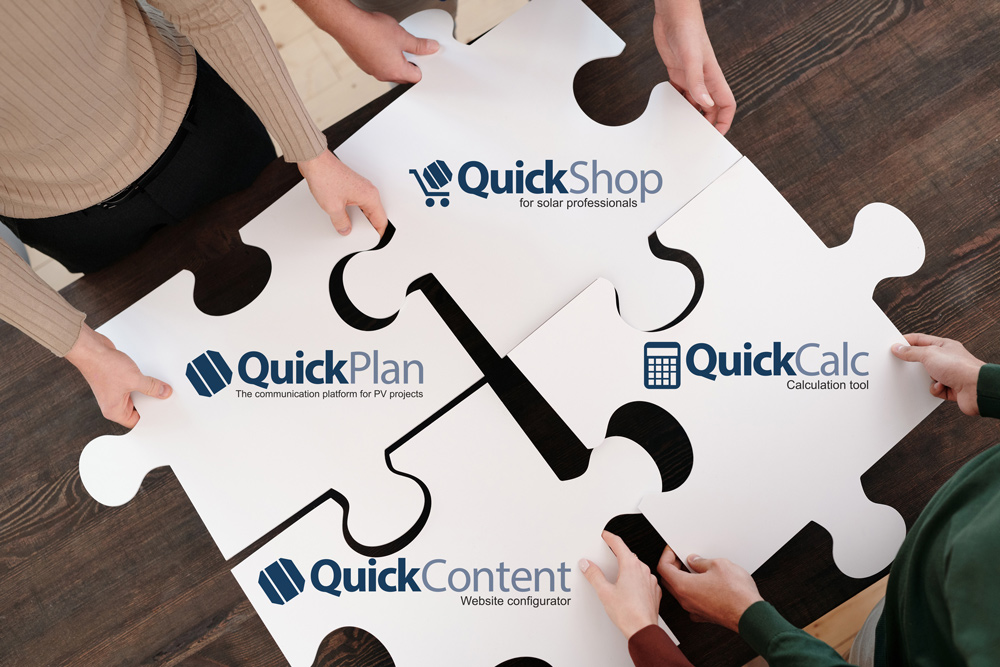 As you have come to expect from us, all product data is of course centralised at EWS. In addition, our shop complements our other online tools perfectly – to make your work even faster and safer:
QuickCalc, the calculation tool for complete systems
QuickPlan, the tool for planning and communications
QuickContent, the website configurator for PV professionals
New features for QuickShop are already on the horizon. You can look forward to integration of all shop features in our calculation tool for complete systems QuickCalc, the incorporation of product sheets and search functions in QuickContent and more. What do you want to see in our online tools? Contact our sales team – we look forward to your suggestions and feedback.