REC has launched a new tool for solar installers that will facilitate the administration of their projects and offers additional sales advantages: the SunSnap app.
The features of the new application:
Manage projects quickly and in a structured way: Assign a name to the project and key in the name of the system operator as well as the start of the operation. Indicate the location of the solar installation, as well – either manually or by letting the app use the GPS data. The solar panels can be registered by either scanning (with the camera of the mobile phone) or keying in the barcode numbers. It is as easy as that!
Reference projects for your sales work: A picture is worth a thousand words: Upload a snapshot of the solar project when registering – and build a collection of your installations, bit by bit. This allows you to quickly find projects in the list or map view and show your work portfolio to prospective customers in a sales pitch.
Benefit for REC Solar Professionals: Certified REC Solar Professional installers can exclusively offer their customers an extended product warranty of 25 years. In addition, they benefit from a labor warranty in case of a service case. The app cuts down administrative work time, e.g. for the registration of the extended product warranty, with warranty certificates being immediately available as a PDF file for the customer upon registration.
Administer several user profiles: You would like to manage the data of multiple app users? No problem! Under one company account, several installers can register their projects, helping managers to keep an overview of their firm's successful installation track record.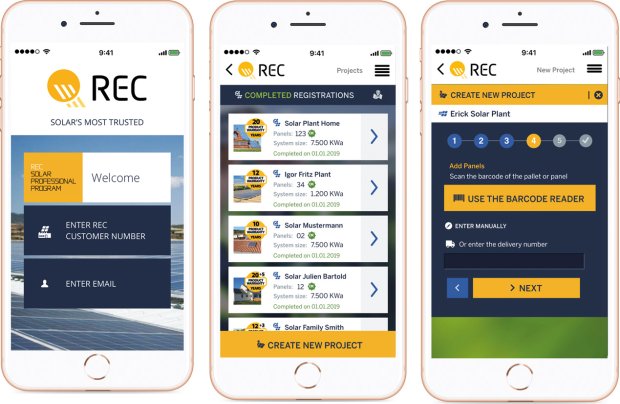 The REC SunSnap app is available for iOS and Android mobile devices. Get it now, create your account – and enjoy the benefits!
For more information on the app, please have a look at the REC press release, additional details on the Solar Professional Program can be found on the REC website.