REC is happy to introduce the latest generation of its award-winning TwinPeak solar module series: From February 2023, the product novelty TwinPeak 5 will be available from EWS in two variants.
Thanks to its 132 monocrystalline p-type PERC half-cells and multi-busbar connections, the TwinPeak 5 comes with a power output of up to either 410 Wp (standard version with white backsheet) or 400 Wp (fullblack version). In comparison to the previous panel generation, this means more power, but also changed dimensions (1899 x 1040 x 30 mm) since the module features one additional row of half-cut cells per module half.
The cells stand out thanks to a particularly low temperature coefficient and improved efficiency.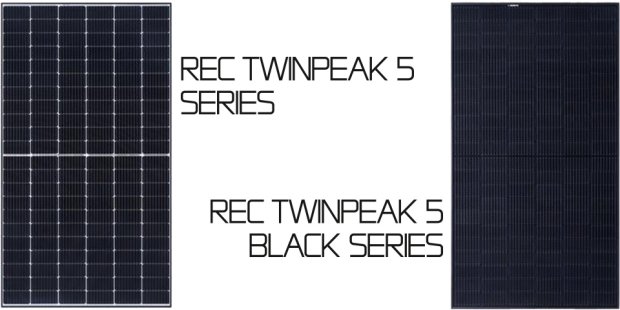 Stability for loads of up to 7,000 Pa is ensured by the strong 30 mm frame and support bars on the back. This structure makes the TwinPeak 5 ideal for use in harsh climatic conditions. Do you want more details? Have a look at the following video animation to learn more about technologies packed into the new REC TwinPeak 5 as well as the product's advantages.
REC grants an outstanding 25-year warranty on product, power output and repairs for all systems. In order to benefit from this ProTrust warranty, the system must be installed by an REC-certified Solar Professional. For details, please have a look at the warranty conditions.
In depth information on the REC product novelty can be found on the product page. Check our QuickShop for your purchase prices and information on availability.