Roofing ceremony at solar wholesaler EWS: The work on the high-rack warehouse in Handewitt on the Danish border is now entering the final construction phase.
Since the start of construction in September 2022, the shell has been built in record time. The project's completion is planned for May 2023. The sixth warehouse with the high racks offers space for 3,000 module pallets, i.e. 90,000 solar modules with a total output of approx. 36 MWp.
"All in all, this means another doubling of our warehouse capacities," says a proud Kai Lippert who is the company's founder and Managing Director. "We are raising our shipping/logistics capabilities to a whole new level and investing in the future at our location here in Handewitt."
This is also reflected in the number of employees: There are now more than 200 colleagues working in sales, planning, logistics, marketing, administration, purchasing, IT and software development – and the number is rising. Jan Paul Dahm, son of the company's founder, has been the second generation to join the family business. As a member of the management board, he is responsible for portfolio development, internationalisation, and digitalisation, as well as warehouse and shipping logistics. In order to be able to offer this fast-growing team additional office space, another office complex is being built next to the imposing hall building. From here, the flow of goods to the more than 2,000 customers in Germany and (Northern) Europe will be coordinated in the future. The third EWS warehouse office with 280 m² of space on two floors with canteen and sanitary facilities is designed for 15 workplaces.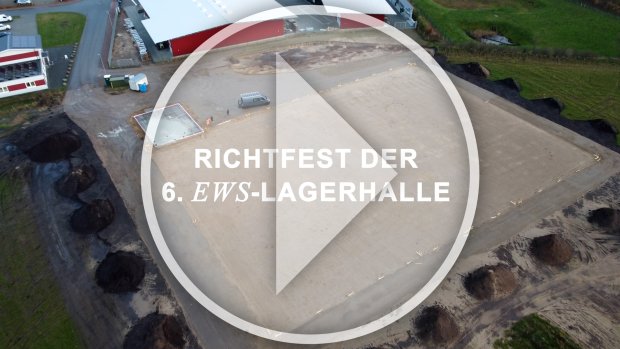 Video: Roofing ceremony of the sixth warehouse
In the last two years, approx. 8 million euros have been invested in the expansion of the site and further construction projects are already in the planning stage. At today's roofing ceremony, the new warehouse was duly celebrated with the entire staff and all the construction workers.
For more information on the development of EWS, please visit the website at http://www.photovoltaics.eu or the company's LinkedIn profile.