Get EV ready with the newly introduced single-phase inverter with integrated charging function: SolarEdge offers a 2-in-1 solution for residential applications with extensive benefits, including a higher self-consumption.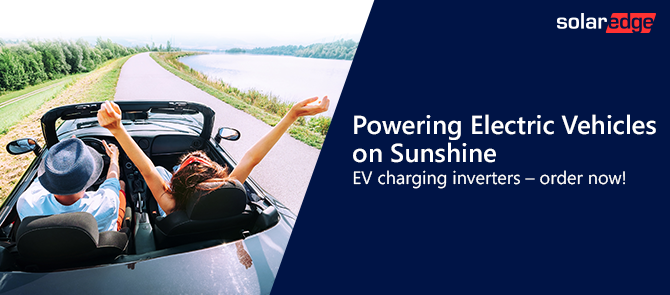 Advantages at a glance:
Fast charging: Thanks to the innovative solar boost mode, i.e. the simultaneous use of grid and PV power, electric cars can be charged up to 2.5 times faster than with a standard Mode 2 charger.
Reduced installation time and costs: The 2-in-1 solution eliminates the hassle of installing a standalone EV charger and a PV inverter.
Fully integrated monitoring platform: The EV charging single phase inverter supports full network connectivity and integrates seamlessly with the SolarEdge monitoring platform. Homeowners can track their charging status, control the vehicle charging, and set charging schedules, for instance, charge from the grid during off-peak hours.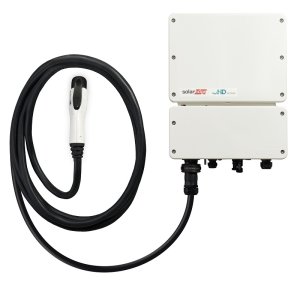 The inverter, with reliable HD-wave technology and an efficiency of 99.5 %, is available at EWS in three different sizes (with a rated AC power of 3.68, 4 and 5 kVA) and designed to work specifically with SolarEdge power optimizers. It is small, lightweight and as easy to install as a standard SolarEdge inverter. Commissioning is done conveniently via SetApp.
In addition, the inverter is equipped with the known SolarEdge security features, e. g. integrated arc fault protection and built-in 6mA DC-RCD. SolarEdge offers a 12-year warranty on the EV charging single-phase inverter.
The charger cable with wall-mounted holder and cable lock must be ordered separately. It is available in two lengths (7.6 or 4.5 m) and with two connector types (Type 1: J1772, Type 2: Menneskes). Installation and activation can be carried out by the system owner himself, thanks to plug-and-scan / play.
For more information on the product, its activation, configuration and installation, please have a look at the SolarEdge website. In addition, we recommend the SolarEdge website for available trainings on this or other topics.
Your purchase conditions for the EV charging single phase inverter (SE3680H, SE4000H, SE5000H) and accessories can be found in our calculation tool QuickCalc. The products are available from stock at EWS from September 2019, but may be ordered from now on.