Delta Electronics presents the new generation of its M50A, a three-phase string inverter in a fresh design with improved performance. With a maximum AC apparent power of 55 kW, it is particularly suitable for large commercial rooftop installations.
The new M50A Flex features a maximum efficiency of 98.7 percent and an input voltage range of 200 V to 1000 V. The six MPP trackers (the old generation came with two) provide for a higher degree of flexibility in the design of a solar electric system which helps to compensate for possible shading effects and different module alignments.
Flexible mounting and easy handling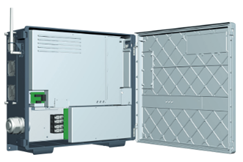 Thanks to Its relatively low weight of 64 kg (which compares favourably with other commercial inverters) and the cable feed on the side of the inverter, the M50A Flex can be mounted flexibly on the wall or the ground. With its IP66 protection housing, it can be used in the harshest environmental conditions.
The user-friendly housing design with a large front door, which is already known from the M70A, allows for convenient and safe access the internal components.
Commissioning is done via the WiFi interface. Furthermore, the M50A Flex features a RS485 interface or wireless sub-1G communication for data transmission. As usual, all data can be viewed via the My Delta Solar Cloud.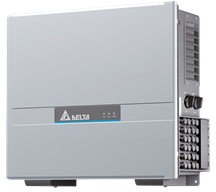 Other features at a glance
Built-in mechanical DC disconnectors, AC and DC surge protection devices
Integrated string monitoring function
Reactive power compensation 24/7
Arc fault and reverse polarity protection
Anti-PID feature
Replaceable fan module for 100 % performance up to over 50°C
For more technical information on the M50A Flex, please have a look the datasheet or the product page. The new M50A Flex is already available from stock – as is the M70A Flex. The other inverters of the new generation (15, 20, 30 and 100 kW) as well as the M250HV are expected in August and October, respectively. We will keep you updated.
Your purchase conditions can be found in our calculation tool QuickCalc (available in our partner area). Our sales team is looking forward to your enquiries and orders.