10 % discount on reference systems and a free dummy package*
Your business with energy storage systems has been slow and you have not sold any Fronius Energy Packages yet? Moreover, you have no reference system to present to your customers? Then this is your opportunity!
Free dummy package
Get a dummy package (consisting of a Fronius Symo Hybrid inverter dummy and a battery dummy in original size) with your first order at EWS – free of charge* and free shipping included.

*You will make a down payment of 222 € with your first order of a Fronius Energy Package. This amount will be credited in full when you have ordered a second storage solution. The promotion is limited until 30 September 2016 and applies only to first-time buyers of the Fronius Energy Package.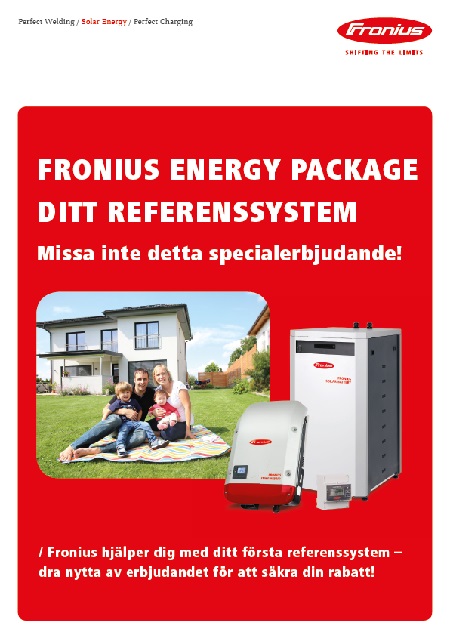 10 % discount on your own reference system
In addition, you can also benefit from a sales campaign that Fronius just launched for the Swedish market. Install a reference system and we offer you a 10 % special discount on your Fronius Energy Package.
This campaign is open to all EWS customers as long as they meet the conditions presented in the Swedish campaign flyer. For more information, you are welcome to contact our sales team. We are looking forward to your enquiries.
Get to know the Fronius Energy Package
With power categories from 3.0 to 5.0 kW, the three-phase inverter Fronius Symo Hybrid allows surplus energy from the photovoltaic system to be stored in the Fronius Solar Battery for later use. The Fronius Smart Meter optimizes self-consumption and records the household's load curve. The capacity of the high performance Sony battery, which is based on the cutting-edge lithium iron phosphate technology, can be adapted to each customer's needs. A later expansion of the capacity from 4.5 kWh to 12.00 kWh is possible at any time. With the emergency power function, the household can enjoy an electricity supply even during power outages (available from 2016 with a software update).