REC has launched the TwinPeak 2 Series, a 60-cell high-yield module variant up to 295 Wp of its award winning product line.
In the new polycrystalline generation, cells from larger wafers (156.75 mm) as well as five busbars were included – both firsts for REC products. Due to these larger cell dimensions, the solar panels themselves are also slightly larger in size. Apart from that, REC has used the proven power-boosting standard features of the TwinPeak panels, e. g. the innovative half-cut cell technology, PERC (passivated emitter rear cell) technology and a split junction box. These characteristics enable its increased power output, the improved performance in shaded conditions and a lower balance of system costs.
The new series is especially suitable for small to medium-sized systems. For larger projects we recommend the well-known TwinPeak series. Please note that the latter will only be available with a silver frame in the future after a transitional phase. The black frame will be reserved for the TwinPeak 2 in the medium- or long-term.
The TwinPeak 2 BLK with a black frame, white back sheet and an output of 290 Wp will be in stock from approx. mid-February 2017. We have furthermore included the Peak Energy module with 270 Wp into our product range.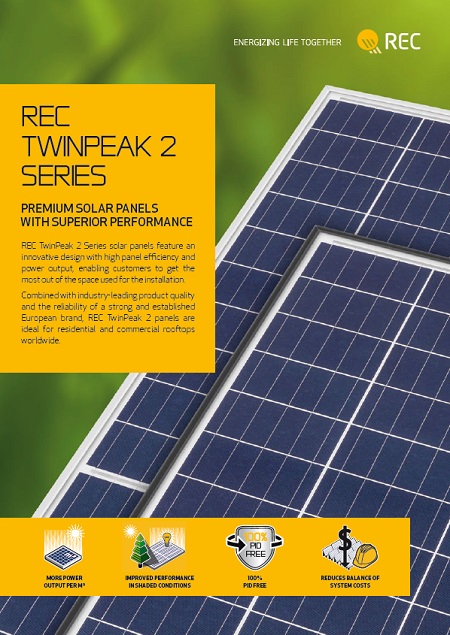 For further technical details on the new product, please have a look at the datasheet or visit the REC website. You can calculate your purchasing conditions with QuickCalc, our calculation tool for single components and sample complete systems.