REC has taken its award-winning Alpha Pure series a step further: With the latest member Alpha Pure-R (model: RECxxxAA Pure-R), the brand manufacturer says it has achieved "an optimal balance between size, weight, output power and handling". With G12 format heterojunction cells (HJT) in a patented module design, the REC Alpha Pure-R delivers an output of up to 430 Wp. At the same time, it remains below two square metres of surface area and is therefore also suitable for installations on residential buildings with limited space available. Another new feature is the four-part junction box. This allows REC to divide the module into four strings, reducing the size of the sections that switch off when shaded. The result: more energy yield, even with partial shading.
Top-Features of the REC Alpha Pure-R
Larger cells for higher output: Hybrid, bifacial heterojunction half cells in G12 format
Gapless cell layout: Optimised use of module area with an output of up to 223 W/m²
Lead-free, RoHS compliant: Free of toxic substances for the production of sustainable solar power
Reduces the impact of shading: Continued generation in shaded conditions for higher energy output
Low module current of 9 A: Higher compatibility with power optimisers and micro inverters
Market-leading Premium Warranty: 92 % guaranteed performance after 25 years, up to 25 years product and service warranty
Leading temperature coefficient (-0.26 %/ °C) for more energy production during peak periods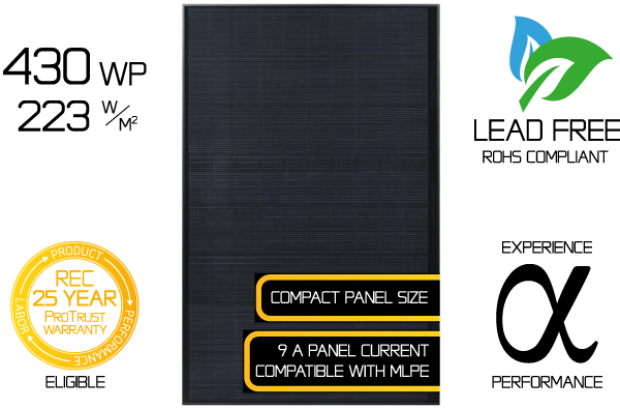 The new fullblack product with an output of 410 Wp is available from stock at EWS now. the 420 Wp model will arrive at our warehouses at the end of November.
Details on prices and quotas can be found in our QuickShop, the technical details in the datasheet.
Link: Alpha Pure-R product page