With its automotive division, our partner KOSTAL has been playing a decisive role in shaping electromobility for some time. This know-how has now been incorporated in the development of an AC EV charger suited for integration into all existing or new PV systems. The new ENECTOR home charging station with a charging capacity of up to 3.7 kW (single-phase) or 11 kW (three-phase) can be perfectly combined with the three-phase PLENTICORE plus and PIKO IQ.
Quick installation and easy handling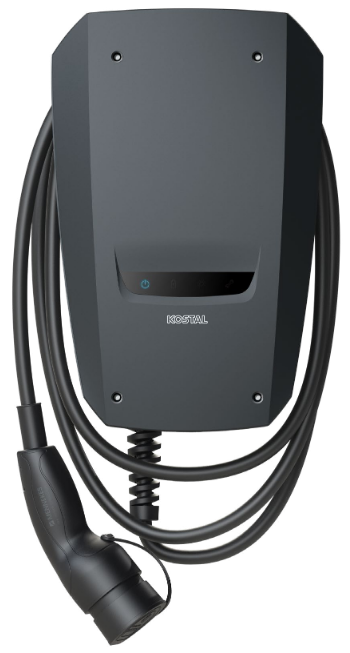 This charging solution from KOSTAL comes wired ready for connection and allows quick wall mounting outdoors or indoors (IP protection class 54).
In addition, the ENECTOR wallbox is designed for extra easy handling. True to the motto "Plug in and charge", no authorisation is required during the charging process. The display with four LEDs immediately shows important status and energy notifications clearly and conveniently. The 7.5-metre-long charging cable, which can be easily stowed away thanks to the smart housing concept, enables comfortable charging of the e-car even at a greater distance from the charging point. The type 2 charging plug for the vehicle connection is matched to the charging point in the common mode 3 (according to IEC 61851) – thus the ENECTOR is compatible with a wide range of electric vehicles and plug-in hybrids.
Extensibility and quality of life features
In combination with the KOSTAL Smart Energy Meter (KSEM) and an activation code, additional functions can be activated – for even more convenience. These include control of the wallbox via app in the home network as well as monitoring and visualisation of production, control, storage and use of renewable energy via KOSTAL Solar Portal (via KOSTAL Solar App). Communication and control take place securely via an RS485 line.
With the extended range of functions, a total of three charging modes are available to your customers:
Solar Pure mode: Only solar surplus energy from the PV system is used to charge your electric vehicle. If a battery is connected, this power can also be used. This maximises the PV self-consumption.
Solar Plus mode: The electric vehicle is always charged with a set minimum power from the grid; in the event of a PV surplus at the grid connection point, this minimum power is replaced by the PV energy. If the surplus at the grid connection point is greater than the minimum charging power, this is increased (if possible). The share of the PV surplus used can be set freely.
Power mode: Fast charging with maximum available performance


Lock mode blocks the charging function against unintentional use.
Integration and connection in an existing or new system with KOSTAL components is extremely easy: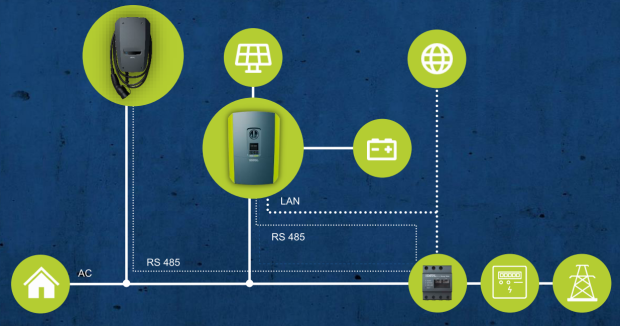 Quality & Security
KOSTAL provides a 2-year warranty for the ENECTOR 3.7/11, which can be extended to 5 years free of charge with the Smart Warranty registration in the KOSTAL Webshop. Further safety and quality features include:
High KOSTAL quality – Made in Germany
Low standby consumption (<1W)
Updates through trained specialists
Integrated DC fault current monitoring > 6 mA
Monitoring of household power demand in combination with KOSTAL Smart Energy Meter or external energy meter (blackout protection)
"Welding Detection" for external charge disruption; The RCD is remotely tripped if welding of the protection occurs.
Temperature monitoring: protection against internal overheating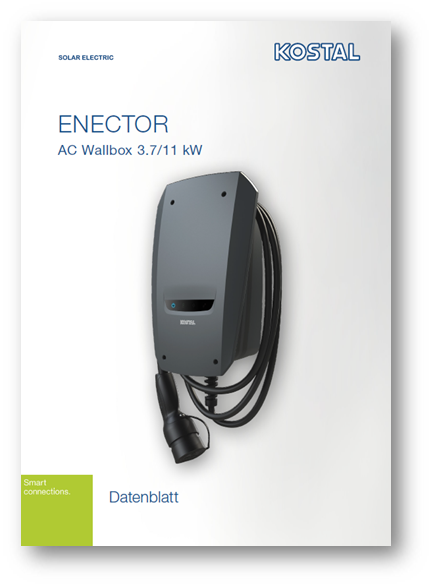 For more details visit the KOSTAL landing page. The data sheet can be found here:
Link: Data sheet KOSTAL ENECTOR AC 3.7/11
The KOSTAL Wallbox ENECTOR can now be preordered at EWS. According to KOSTAL, the first units will be delivered in March/April 2022. You can determine your purchase prices using our QuickCalc calculation tool, which can be found in our partner area. Our sales team is looking forward to your orders and enquiries!