We are very pleased to announce that we have added LONGi Solar, a top manufacturer of quality modules, to our brand range. Look forward to an even wider product selection and more options for the realization of your projects.
In a nutshell: LONGi Solar
Since its foundation in 2000, the company from Xian (China) has become one of the most important manufacturers of monocrystalline photovoltaic products. Its fully integrated vertical value chain ranges from silicon ingot, wafers and cells to modules. This results in particularly competitive cost structures and high-quality standards. LONGi is a market leader in the production of monocrystalline silicon wafers and supplies well-known market players.
At a glance: products and technology
Available from EWS will be two modules of the new HI-MO 4m series which are suitable for both residential and commercial projects. The monocrystalline modules feature the PERC technology and a M6 cell (166 mm long and a maximum diagonal length of 223 mm). This cell format has replaced the M2 cell as the new industry standard. Due to the larger cell surface, there is an increase in output of 15 % compared to the previous module. See here a short summary of the products' main features:
Product

LR4-60HIH
LR4-60HIB
Maximum power

365 / 370 Wp
360 Wp
Design

black frame,
white backsheet
black frame and backsheet
(full black)
Dimensions / Weight

1,755 x 1,038 x 35 mm / 19.5 kg
Warranty

12 years product and 25 years linear performance warranty
Datasheet

Download
Download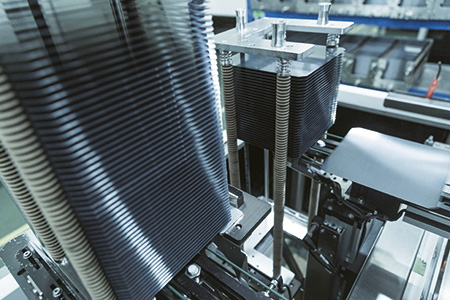 The company's unique selling points
In addition, LONGi meets or exceeds all criteria for new suppliers at EWS:
Economically strong: The company is one of the financially strongest players in the solar business. Among others, LONGi is ranked as the most bankable module manufacturer by Bloomberg New Energy Finance (2020). Consequently, your customers benefit from a plus in the financing of large projects, but also in terms of the value of the warranty conditions.


Expansion of production capacities: LONGi works on expanding production capacities continuously to meet global demand. In 2020, our new partner plans to expand its wafer production to 30 GW and its module production to 75 GW.


Focus on R & D: Every year, the manufacturer invests an average of five to six percent of its sales revenues in research and development – figures that are second to none. The result: a growing number of patents and the continuous increase in module efficiency. Just recently, TÜV Rheinland confirmed a new efficiency world record of 22.38% for LONGi Solar's mono-PERC technology.
Marketing material for download
| | | |
| --- | --- | --- |
| | | |
| Promotional video | Image brochure | Company presentation |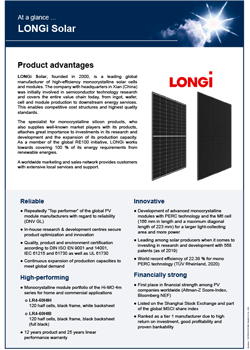 We have summarized all unique selling points in a flyer "LONGi Solar – product advantages". You are welcome to use this during sales presentations or customer meetings or simply pass this flyer on to your customers.
For more technical details, please have a look at the data sheets, the LONGi website and the corresponding download area.
You will find your purchasing conditions as well as an ordering option in our calculation tool QuickCalc which is available in our partner area.
Our sales team is looking forward to your enquiries (also for larger projects) and will be happy to answer your questions at any time.